We recently analyzed the Alexa Skill ratings for December.
Most Rated Skills

The top Skills for December based on the total number of ratings didn't change too much from November, with one exception. The

[

Would you Rather Skill

](https://www.amazon.com/Would-You-Rather-For-Family/dp/B06WGV16HR)

jumped up five spots from 13th to 8th. It's a game wherein players choose what they rather do – for example, would you rather skip Christmas or your birthday this year? They released a special holiday edition which may have contributed to the increase in ratings.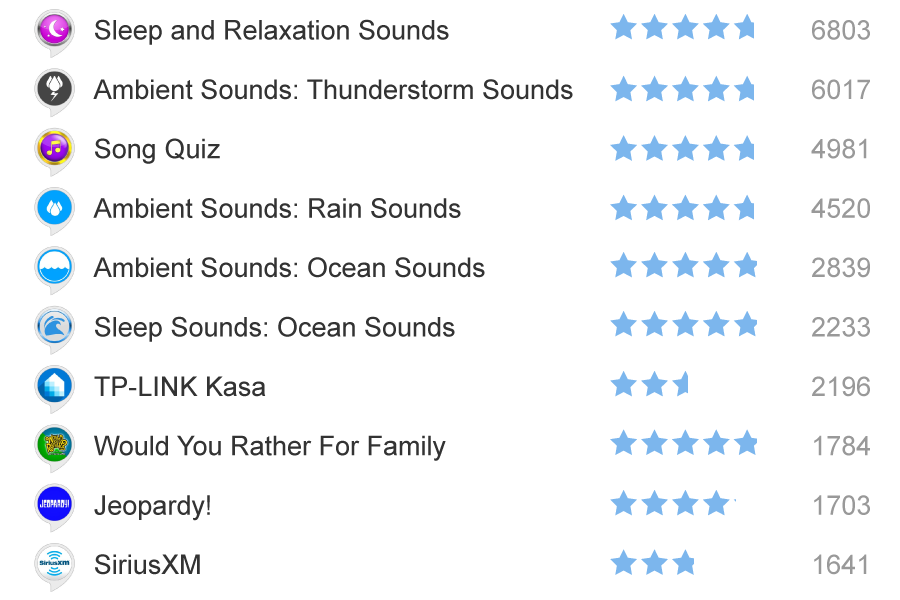 Trending Skills

We also looked at which Skills received the most number of new ratings during December. Five of the top most rated above also received the most new ratings.

[

Song Quiz

](https://www.amazon.com/Volley-Inc-Song-Quiz/dp/B06XWGR7XZ)

beat out the rest of the Skills by a significant amount with 2170 new ratings. It also moved up a slot in the overall most rated Skills.
Trending Newcomers

There were over 1,600 new skills added during December.

[

Volley's

](http://www.volleythat.com) [

Holiday Song Quiz

](https://www.amazon.com/Volley-Inc-Holiday-Song-Quiz/dp/B077SR7PFY)

had the most number of ratings out of any new skills – more than double the next closest.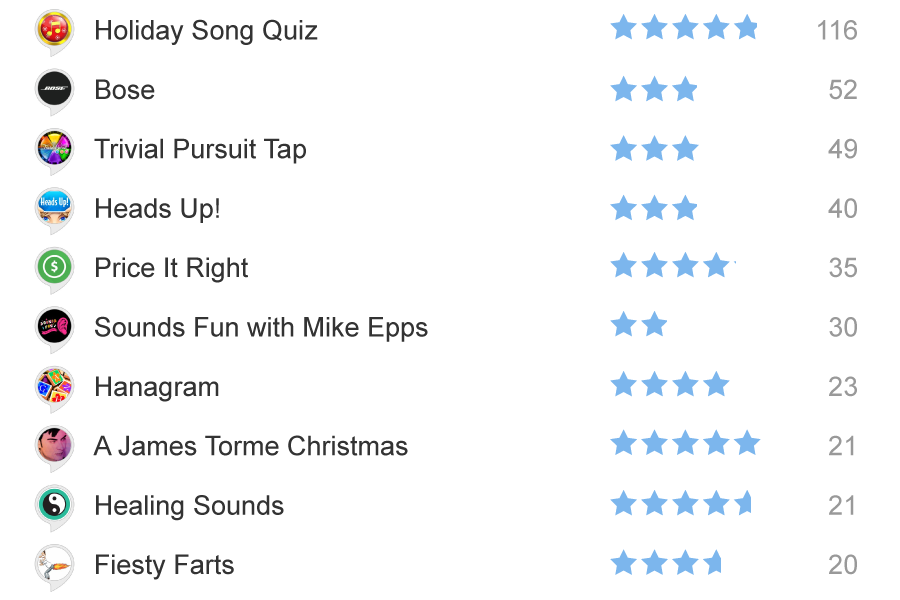 Compare your Skills

Want to see how your Skills compare to others based on the store rankings?

At Dashbot, we offer a competitive intelligence report for Alexa Skill ratings. You can check it out for free at

[

https://www.dashbot.io/ci/alexa

](https://www.dashbot.io/ci/alexa)

.

With our Alexa competitive intelligence report, you can compare the ratings of Skills over time and even save Skills to your watch list.
About Dashbot
Dashbot is a conversational analytics platform that enables brands and developers to increase engagement, acquisition, and monetization through actionable data and tools.
In addition to traditional analytics like engagement and retention, we provide chatbot specific metrics including sentiment analysis, conversational analytics, and the full chat session transcripts.
We also have tools to take action on the data, like our live person take over of chat sessions and push notifications for re-engagement.
We support Alexa, Google Home, Facebook Messenger, Slack, Twitter, Kik and any other conversational interface.